Taeko served as a speaker at the World Competition of the Female Entrepreneurs Association (FCEM) to which 120 countries belong.
Taeko Tada, Representative Director, served as a speaker in front of the great female entrepreneurs' representatives representing the countries at the World Congress of "FCEM".
FCEM was founded in 1973, it originated in France in 1945.
It is a female global business leader association to which more than 120 countries are members.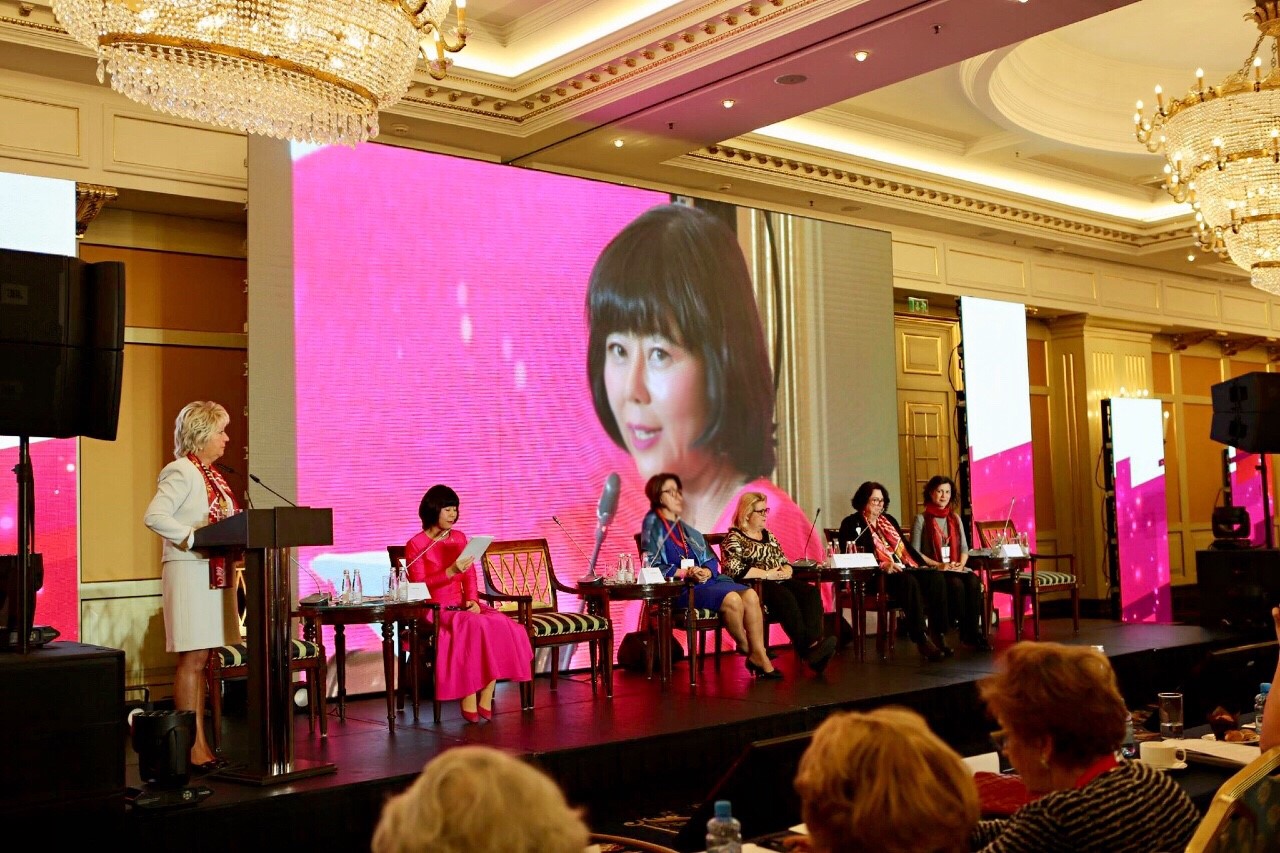 She talked about activities to nurture peace-building children, the meaning of wearing pink in 365 days, the establishment of Pink Day sharing happiness, and the pink award to recognize altruistic activities.
Her speech was approved by a representative of a female businessman association in many countries. She was deeply moved by the magnitude of the response.
"Today, I was keenly aware of the meaning and significance of activities promoting world peace from Hiroshima. I was deeply impressed."
She was very pleased with a lot of encouragement messages.
In addition, she was invited to a wonderful ball held in Castle like Cinderella Castle in St. Petersburg.
She deepened her friendship with the female entrepreneurs in St. Petersburg.
She also exchanged with college students from St. Petersburg who volunteered for FCEM.
St. Petersburg is the place where the "Leningrad siege battle" occurred during World War II, one of the most miserable battles of the history of mankind caused by Nazi Germany.
At that time, the city of Leningrad was completely surrounded.
Fierce German military bombing and urban warfare spread, supply of supplies such as food and fuel was completely cut off. It seems that it caused serious victims due to hunger and coldness of minus 20 degrees or less.
Before this fight, the number of people who lived in Leningrad was about 3.2 million people.
About 1 million people died in the siege battle. One in three people of the citizen passed away.
We felt the importance of disseminating the importance of peace from Hiroshima.