The call for child representatives for the Children's World Peace Summit has opened today.
We are looking for "Ideas to make the world peaceful" from teenagers.  

Recently, it is reported that many people have been killed by the invasion of Ukraine, and children are also victims of the invasion.
No matter what kind of environment you were born and raised in, "peace" should never be threatened.

The purpose of this summit is to foster children's interest in international cooperation and to develop their ability to play an active role in the international community in the future through the experience of learning and thinking about peace proactively with children from many countries.

We hope that this will be an opportunity for children to think not only "not to make war" but also "how we can create peace" and to carry it out.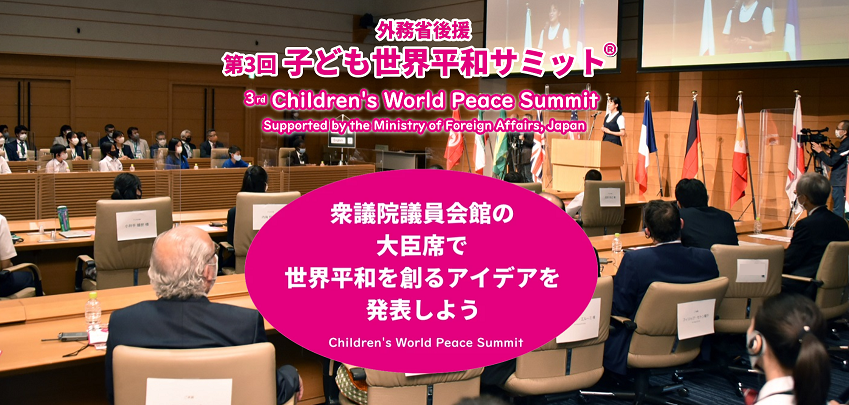 The 3rd Children's World Peace Summit – Outline of the Call for Entries

Theme: "What is Peace? My Idea for World Peace
Eligibility: Applicants must be between 10 and 19 years old as of August 3, 2022.
Application period: Monday, April 18, 2022 – Tuesday, May 31, 2022
Application Method : In principle, applications from schools (or individual applications)
For details, please refer to the application page below.  

The 3rd Children's World Peace Summit Application Page
https://peacepieceproject.com/eng/cwps/oubo2022
The Children's World Peace Summit invites ideas for world peace from teenagers, and selects 10 child representatives from among those who apply, who will represent their countries and deliver a speech at the International Conference Hall of the First House of Representatives, House of Representatives.

The Summit, which has been held since 2020, is now in its third year and will once again call for ideas for bringing peace to the world from children around the world.

In the past, 72 children from 3 countries participated in the first Summit, and 202 children from 11 countries participated in the second Summit.
If you are not sure what kind of work to submit, please click here to see the announcement of last year's contestants for the Children's World Peace Summit.
↓ ↓ ↓ ↓ ↓ ↓ ↓ ↓ ↓ ↓ ↓ ↓ ↓ ↓ ↓
https://www.youtube.com/watch?v=AY6uMHZmmQg&t=1557s
【The 3rd Children's World Peace Summit】
Date : August 3, 2022 (Wednesday) 14:00-17:00
Venue: International Conference Hall, First House of Representatives, House of Representatives
Support :Ministry of Foreign Affairs of Japan, Hiroshima Prefectural Board of Education
Judges (tentative): Astronaut Naoko Yamazaki, Kabuki actor Hikosaburo Bando
Ms. Natasha Guzy, Ukrainian diva and player
NHK Executive Director, Mr. Toshifumi Kataoka, etc.  
*For the purpose of infection control, this event will be held only for those who are invited in advance.    


【Peace Piece Project Initiatives to Achieve World Peace】
There are children in the world who cannot live in "peace" due to the environment in which they were born and raised, social conditions, and various other circumstances.
This project defines world peace as the creation of a planet where children can live in peace, and is raising children who will create peace in order to realize this definition.  
This project has been officially registered as a co-creation challenge in the "TEAM EXPO 2025" program of Expo '2025 Osaka-Kansai, and we aim to hold the Children's World Peace Summit with 100 million children in 100 countries.